On this the 14th anniversary of the "Attacks" of 9/11, I think we all need to take a time to remember a some of the lesser known facts and occurrences of this tragic day.
1. Steel Doesn't Melt, or Dissolve, from Fire
The WTC Twin Towers were incredibly strong, steel frame buildings that shrugged off the explosive impact of large jet planes, but then somehow collapsed into dust. Fire simply cannot do this… This live CNN report shows a 900 ft. high corner beam of the building turning into powder in mid air. http://
2. Hijacker's Passport Found Unscathed in WTC Rubble… But Not the Black Boxes for Either Plane.
Not much was found intact in the rubble of the collapsed towers, not the bodies of the victims, not telephones or file cabinets – not even the black boxes of the planes that crashed into the buildings. But you know what was found, the passport of one of the nineteen supposed hijackers…http://
3. "Hijacked" Planes Were Allowed to Fly Uncontested for Over an Hour Before Crashing and Colliding with WTC and Pentagon.
Amids the confusion from multiple terrorism drills coincidentally being conducted by the military on the morning of 9/11, somehow the four actual hijackings were completely ignored – or allowed – to complete their mission.http://
4. "No Evidence of Plane Crashing Anywhere Near Pentagon".
Speaking in a live report from the Pentagon, this CNN reporter refutes "eyewitness" accounts of a plane crash and says from his own "up close inspection of the site there was no evidence of a plane crash.http://
5. No Evidence of a Plane Crash in Shanksville.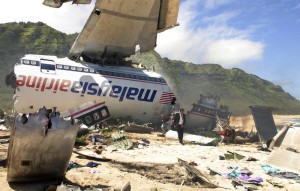 We all know what plane crashes look like, in fact the crash of the shot-down Malaysian Flight MH17 in the Ukraine this past July was a vivid reminder. But 0n 9/11 we were asked to believe that Flight 93 crashed into a field in rural Pennsylvania without leaving any evidence: no fuselage, no wings, no seats, no luggage… no bodies. This Fox affiliate same-day coverage again shows how eye-witnesses saw no reason to believe it was a airplane crash site.http://
6. Secret Service Left President Bush Exposed in a Public Place for 7 Minutes after "America was Under Attack".
If America was under attack, Standard Secret Service procedure would have been to grab the President immediately and get him to a safe location… but they didn't do that with Bush. He sat there with trying to look calm for 7 long minutes – conceivably exposing not just himself, but those around him to any potential follow-up attacks. Why this inexplicable breach of protocol?http://
7. Bush Claims – Impossibly – to Have Seen First Plane Hit the World Trade Center.
In two later instances, George Bush spoke publicly about having seen the first plane hit the World Trade Center prior to being ushered into the classroom on the morning of 9/11. But it would not have been possible to him to have seen the first impact on a school TV as he recalled, because the footage of the first plane impact was not aired until the next day… was he lying? Or, was he just stupidly assuming that we all had the same CIA feed that he had?http://
8. All Three WTC Skyscrapers Collapsed in Free-Fall Speed.
All three towers at the World Trade Center fell at the same rate as a ball or rock would have if dropped from the same height – this despite the official explanation that the collapse entailed each floor essentially smashing into and destroying the floor below it. Now, as any high school physics student can tell you, the only way a building can fall at free-fall speed is if somehow all resistance has been removed… http://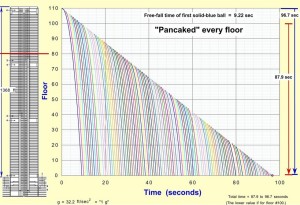 Dr. Judy Wood in her book "Where Did the Towers Go?" offers a simple graph showing how much time would be required if each floor truly crashed into and destroyed the floor below it… 100 seconds. Clearly, something else was happening here.
9. Official NIST Report Says There was "No Evidence" of Explosions.
It's crucial to the fiction of 9/11 that the impact of the planes – and the fires caused by them – are the only reasons for the collapse of the Twin Towers and of Building 7. The official NIST report claims that there was "no evidence" of any explosions whatsoever – this in spite of hundreds of eyewitness accounts, along with video and audio evidence to the contrary.http://
10. The Bush Administration Delayed the Investigation of the 9/11 Attacks for 411 Days!
After standing on the rubble pile and promising a "full investigation" Bush and his administration actively hindered, delayed and obstructed the investigation of the attack for 411 days! And while the government spent $40 million to investigate Clinton-Lewinsky; $75 million to investigate the Challenger disaster; $40 million to investigate the Colombia disaster… the amount dedicated to this evil attack on our country was a paltry $14 million dollars. Then, he stacked the commission with people loyal to him and his administration. Clearly, Bush and his people had no interest in trying to discover or expose what happened on that day. http://
11. New York's $18 Million Emergency Management Command Center was "Officially" Never Used on 9/11.
WTC Building 7 housed a New York's brand new Office of Emergency Management's high-tech command center. Equipped with state-of-the-art communication and computers, protected by bomb-proof super glass, and with its own air supply and back up generators, this 23rd floor bunker was specifically designed for an emergency like that of 9/11. Yet, by 9:30 am that morning, when there could not yet have been any thought of the buildings collapsing, the command center was evacuated. Rudy never went there.
Building 7 also housed many federal agencies including the Secret Service, the FBI, the CIA, the SEC and others… it would have been a perfect command center from which to oversee and supervise the destruction of the World Trade Center. The apparent demolition of Building 7 later in the day may have been the final act of the true perpetrators of 9/11… and the perfect way to destroy all evidence of their evil deed.
James Corbett, of corsbettreport.com summed up the improbability of the official 9/11 story in a short, 5 minute video:http://
There is so much more to say, so much more hard evidence that suggests that we have been deceived about what really happened on that tragic day, so many reasons to question the official story… so few reasons to believe it.